Hospice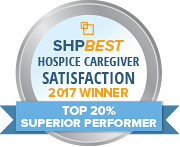 Hospice is a model of care for patients with a limited life expectancy. At Traditional Hospice, we focus on relieving the symptoms while emotionally and physically supporting the patient, family and caregiver. Our mission is to assist the family in transitioning through this time in one's journey as peacefully and comfortably as possible. Our medical hospice service is provided in your home, nursing home or wherever you reside. Our compassionate nurses and aides help to manage and relieve pain so that the patient can pass with as little discomfort as possible surrounded by the love and support of family. It is the extra time we spend with the patient and their families that makes Traditional Home Health and Hospice unique and valued. Our low nurse to patient ratio allows us a higher frequency of visits and greater personal attention per visit than many in the field.
Our talented team of nurses, physicians, aides, social workers, volunteers and spiritual support are dedicated to helping the patient realize the benefits of palliative care. Whenever possible, encouraging patients to take outings, to spend time exercising, eating nutritious foods, meditating, enjoying beautiful music, taking walks out in nature, whatever a patient likes to do- sometimes introducing them to new experiences. Research has shown, palliative care can have remarkable benefits- emotionally and physically.Paid for through Medicare and private insurances, our hospice care is available 24/7.
Hospice Care Includes the Following:
Manage patient pain and symptoms
Assist the patient with the emotional, psychological, and spiritual aspects of dying.
Provide the needed drugs, medical supplies and equipment
Educate and coach the family and their caregivers on how to care for the patient.
Provide short term respite care for the families when time away is needed
Provide bereavement care and counseling services to help surviving family and friends.